Pizza Scrolls – Always – All Ways 😲
Pizza Scrolls - HOW TO
I have had many requests to make this HOW TO printable - so here it is :)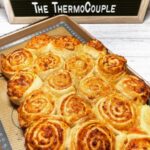 See Recipe
-
So much better than store bought!
Scrolls in our house are a real quick go to food. They are great for when friends and family are coming over or pregnant daughters 😊 I swear my grand daughter is going to be equal parts vegemite and sugar.
I like to change things up with what are put into them but our favourite quick ones are
Ham & Cheese or Vegemite & Cheese
If I have a little time on my hands, I like to make up Sautéed Capsicum from Cookidoo (Turbo x 3) as the base before putting on the Ham & Cheese – just adds that extra oomph to them!
Below are photos of my process of making them.
I use Pizza Dough for the base and then whatever is floating in the cupboard for the toppings.
Note: When doing vegemite as base – put it on in blobs, then spray lightly with oil so you can spread it around. Gets stuck otherwise. 
Oh when cutting them up I use dental floss – not the mint one – it is much easier than using a knife and it doesn't squash them either.
Pizza Scrolls - HOW TO
I have had many requests to make this HOW TO printable - so here it is 🙂
Instructions
Make the Pizza Dough in the Thermomix and let it rise for 1 hour in an oiled bowl covered with cling film in a warm space
HAM AND CHEESE
I put 200gms of assorted cheese and about 100 gms Ham

CHOPE – 10 SECONDS | SPEED 7

When the dough is ready, I place it on a Thermomix Mat and roll it out. Coast it in whatever I am choosing to be the base and sprinkle the cheese (and ham) and roll

Rolled up – cut – and ready to bake
VEGEMITE AND CHEESE
First I placed the dough on her mat – squished with fingers first, THEN I found the rolling pin

Vegemite in smears across the dough

Sprayed with a little oil to help the process so I didn't tear the dough and create holes

Next I added two types of cheese. Tasty and Parmesan

Grated in the Thermomix - approx. 60gms cheese

CHOP - 4 SECONDS | SPEED 5

Rolled and ready to cut with a dough cutter. No dental floss in her home. Well there was, but it was mint!!

All ready for the oven. Notice they were flatter that the ones above that were cut with dental floss. THIS is the reason I cut them that way

This is how I use dental floss to cut my scrolls
Do you want to see a Thermomix® in action ?
As consultants there are a few ways we can showcase the benefits of a Thermomix®
Customer Experience - Cooking Demonstration in your home with a few friends (gets you a nice gift)
Customer Experience - Cooking Demonstration in our home with a few friends (gets you a nice gift)
Zoom - virtual
Social Media
This website 😁
Send us a message and we can help you out.
Want a Cooking Experience in your home?